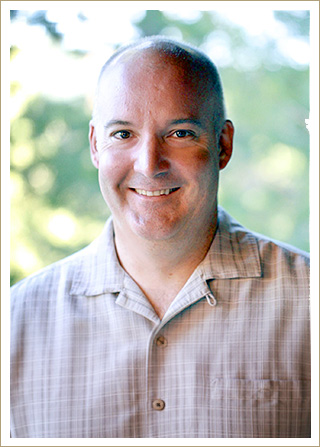 It's 6 a.m., and the sun is just peeking over the mountains to light the first shimmering sparkle on Donner Lake. Local businessman Bret Churchman reminisces of the times spent with his father as a little boy. "As I would chatter away, my dad would finally take me on his lap and patiently say, 'Son, ssshhh, just listen to the quiet.' I've never forgotten to seek out that serenity here in the mountains, and it's part of what I know people long to find here today. For Bret, amidst this magical beauty of his mountain paradise, sharing these feelings with his family is as natural as it gets."
You can find Bret in one of two places: with his family or enjoying the great outdoors.
A Place Like No Other
If you were to ask Bret just what he loves about his home, his reply would be quite simple, everything. As a person who is naturally drawn to the outdoors, Bret takes full advantage of all the amenities the North Lake Tahoe area offers its residents. From fishing at local lakes to playing somewhere in the snow, or hiking on remote trails, it's definitely rare to find this nature lover indoors. For Bret, every aspect of his home, the picturesque mountains, crystalline blue waters, natural wildlife and even the genuine people, allow him to stay grounded and focused on what really matters.
A Passion for Home
Naturally, it's Bret's passion for home that makes it so easy for him to understand why his clients want to be here too. Growing up in Truckee and moving away to college at 18, Bret eventually realized there really is "no place like home." With nearly 300 days of sunshine a year, and world class skiing and beauty right out the back door, who could blame him?
A Natural Professional
Bret's love for home, and his down-to-earth approach to business have naturally propelled him to one of the high Sierra's leading real estate professionals. With a degree in communications, his ability to combine an emotional situation with logic and compassion helps reassure you during this potentially stressful time. Understanding your needs and unique goals is always Bret's top priority.
Using His Insight
Clients also appreciate Bret's knowledge and understanding of the nuances and concerns of owning a mountain property—insights that only a homegrown Realtor® can point out. You'll also enjoy how he acts only with your best interests at heart, taking care of all the details of your transaction, instilling you with a confidence that nothing will fall through the cracks.
The outdoor activities in and around the Truckee and North Lake Tahoe area are a welcomed attraction for the Churchman family.
A Higher Elevation of Service
Whether you are buying or selling a home in Truckee or the North Lake Tahoe area, give Bret Churchman a call today. He's providing A Higher Elevation of Service that is a breath of fresh air during your important transaction. Call Bret today—you'll be glad you did!
Photo Gallery